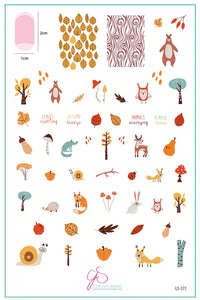 Playfully Autumn by Clear Jelly Stamper
Step into the enchanting world of "Playfully Autumn" with our delightful Steel Nail Art Layered Stamping Plate. Embrace the spirit of fall with a collection of whimsical designs that capture the essence of this magical season in full coverage detail!
Immerse yourself in the beauty of falling leaves as they gracefully dance across your nails, carrying the vibrant colors of autumn. Discover an adorable gathering of forest friends, including bears, owls, foxes, snails, and bunnies, among many more delightful animals frolicking in the autumnal wonderland.
As you stamp these charming scenes, you'll feel the rustling leaves underfoot and sense the woodland creatures scurrying about their daily adventures. A gentle autumn breeze seems to sweep through the designs, bringing with it the sweet aroma of acorns and the earthy scent of mushrooms.
With "Playfully Autumn," your nail art creations will transport you to a serene forest scene where the wind gently blows, and the leaves rustle with each step. Let your nails become a canvas for storytelling, where each animal has a tale to share, and every design is a tribute to the beauty of fall.
Unleash your creativity and infuse your manicures with the heartwarming charm of this season. Whether you're a nail art enthusiast or a nature lover at heart, "Playfully Autumn" will inspire you to capture the magic of the autumnal forest and adorn your nails with the playful spirit of fall. Get ready to stamp and design your way into a world where nature and nail art intertwine in the most delightful way!
Comes with our "Step by Step" guide!

BONUS Clear View Spec Sheet - not included for every plate
14 x 9 cm